Career Guidance
We believe that enterprise in education is an approach to and  context for learning that promotes good teaching practice and makes connections with the world of work. Our objective is to equip all candidates with the positive mindset to achieve their personal goals and ambitions.
At the centre of Enterprise and Employability we deliver:
Graduate Skills Development and Scholarship programmes
Enterprise and Employability programmes
Modern Languages
Graduate skills development and scholarship programmes
In an increasingly competitive job market, leaving university with a good degree may not be enough on its own to land graduates that first job. Increasingly employers are looking for a broad range of skills and experience from their graduate employees.
Key focus areas:
Work related learning
Career opportunities
Academic skills
Extra curricular
"The Graduate Skills program has been designed to ensure that learners can enhance their
work effectiveness through personal and professional development."
At the end of the programme, candidates will develop a portfolio that provides evidence of transferable skills and graduate attributes. This will enhance their chances during interviews, writing CVs and job application submissions. We also provide a scholarship to candidates who perform exceptionally well in their academics.
&nbsp
Why Choose Us
Each of our team members have been handpicked for their passion, knowledge, industry experience and integrity, all of which constitute our values and aims as we strive to meet the expectations of our candidates and clients. We have a highly qualified team who bring together a mix of expertise from wide-ranging sectors such as public, private sector, universities, higher education and other professional bodies.
A practical approach – What you learn can be embedded in your work. We adopt a practical, fully supported, work-focussed training approach where your learning can be immediately translated into your work practice.
Support – Our approach is to suggest the most relevant and beneficial learning route for you, utilising our expertise in modern and innovative learning solutions. Our support extends beyond your course completion. We will continue to support you by evaluating the effectiveness of your course in your life and suggest further areas of skills enhancement and career development.
Skills development opportunities
Our courses enable learners to focus on the skills most valued by employers, e.g.:
Provide a clear focus on core and employability skills, and the ability to transfer these to different contexts, in particular, the world of work
Provide opportunities for students to develop skills such as problem solving, decision making and evaluating risks
Provide opportunities for work related experiences, both in and out of the classroom
Progress to a higher qualification
E Library
All the learners studying (online or classroom) at APeducation Online will have access to our e-library. Learners can access a range of eBooks, white papers, journals, presentations etc. based on the course they are studying. They can also download them directly on to their device.
Our online library can be accessed anywhere in the world by anyone with an internet connection and is open 24 hours a day, 7 days a week, all from the comfort of your own home
Discounts and Rewards
NUS Extra
NUS Extra (National Union Student) card is an official UK student lifestyle card with latest discounts, competitions and monthly offers sent directly to you. Get exclusive NUS discounts from over more than 70 brands.
For International Students
APeducation Online provides with you an opportunity to rediscover and empower others with our professional development training and education.
APeducation Online is happy to provide our students the opportunity to save and make their studies enjoyable.
For more information all the learners and parents can contact us today on 020 8249 6340 and our team will be more than happy to assist you. You can also visit www.nus.org.uk for more information.
As a token of appreciation for every person you successfully recommend to study with APeducation Online, you will receive a cash incentive or vouchers! The more you refer, the more you earn!
To take advantage of this referral scheme, the referred individual must enroll and undertake a course at APeducation Online. For more information please contact us at info@apeducationonline.co.uk with the Subject as "Referral "
For National Health Service Staff(NHS)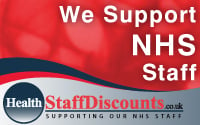 We offer 10% discount on all our qualification to NHS staff.
For more information please contact us
at info@apeducationonline.co.uk